You have learned that a quadratic has at most two real zeroes and a cubic has at most three real zeros. You may have noticed that the number of real zeros is always less than or equal to the degree of the polynomial.
Concept Extension: Consider the graph or a parabola and draw three parabolas on three separate x and y axes crossing the x axis 0, 1, or 2 times. Explain the x-intercepts found vs. possible roots of your graph. Which values are complex numbers with an imaginary part? Do these zeros cross the x-axis? Can you see them visually on a graph?
Watch This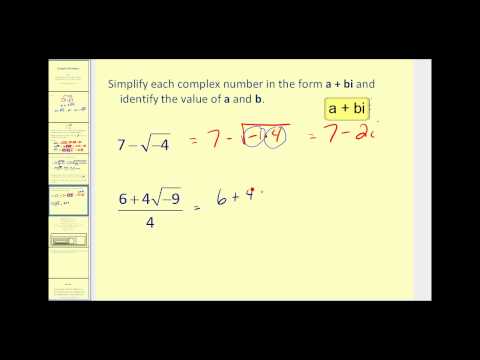 http://www.youtube.com/watch?v=NeTRNpBI17I James Sousa: Complex Numbers
Guidance
Example A
Identify the zeroes of the following complex polynomial.
Notice there are two solutions. Thus the linear factorization of the function is:
Example B
Example C
Solution: Write the function in factorized form.
Vocabulary
Guided Practice
1. Write the polynomial that has the following roots: 4 (with multiplicity 3), 2 (with multiplicity 2) and 0.
2. Factor the following polynomial into its linear factorization and state all of its roots. Use factors of 6 (the constant) in the form (x - zero), with long division and see what factors give a remainder of zero.
3. Can you create a polynomial with real coefficients that has one imaginary root? Why or why not?
Answers:
2. You can use polynomial long division to obtain the following factorization.
Also take into consideration the end behavior of the graph. The graph looks like:
3. No, if a polynomial has real coefficients then either it has no imaginary roots, or the imaginary roots come in pairs of complex conjugates (so that the imaginary portions cancel out when the factors are multiplied).
Homework
For 1 - 4, find the polynomial with the given roots.
For each polynomial, factor into its linear factorization and state all of its roots.
13. How can you tell the number of roots that a polynomial has from its equation?
14. Explain the meaning of the term "multiplicity".