Polar and
Rectangular Coordinates
Three equivalent polar coordinates for the point (3, 4) are:
Notice how the third coordinate points in the opposite direction and has a seemingly negative radius. This means go in the opposite direction of the angle.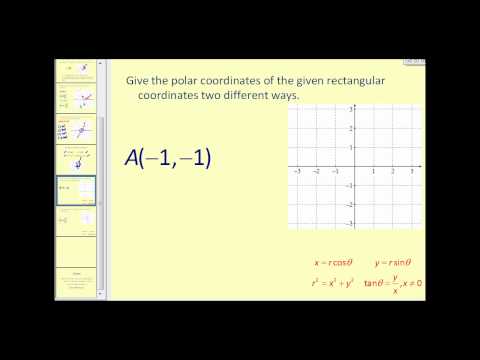 Examples
Example 1
Example 2
This is the equation of a hyperbola.
Example 3
Since theta is not in the equation, it can vary freely. This simple equation produces a perfect circle of radius 3 centered at the origin.
Example 4
Example 5
Translate the following polar expression into rectangular coordinates and then graph.
Simplify the polar equation first before converting to rectangular coordinates.
Review
Plot the following polar coordinates.
Give two alternate sets of coordinates for each point.
Graph each equation.
Convert each point to rectangular form.
14. (1, 3)
15. (1, -4)
16. (2, 6)
Convert each equation to polar form.
Review (Answers)
To see the Review answers, open this PDF file and look for section 10.1.