To convert a percent to a decimal, just move the decimal point two spaces to the right:
And to convert a decimal to a percent, just move the decimal point two spaces to the left: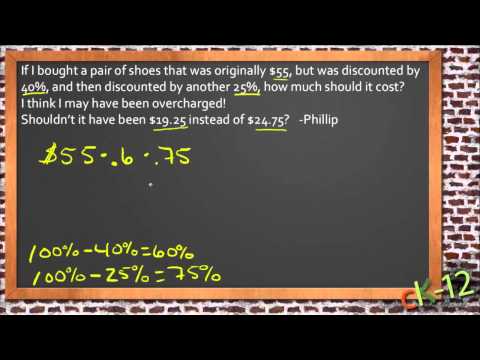 Finding and Converting Percentages
Before we work with percentages, we need to know how to convert between percentages, decimals and fractions.
Converting Percents to Fractions
Convert 32.5% to a fraction.
Converting fractions to percentages can be a little harder. To convert a fraction directly to a percentage, you need to express it as an equivalent fraction with a denominator of 100.
Converting Fractions to Percents
Why can we convert from decimals to percents just by moving the decimal point? Because of what decimal places represent. 0.1 is another way of representing one tenth, and 0.01 is equal to one hundredth—and one hundredth is one percent. By the same logic, 0.02 is 2 percent, 0.35 is 35 percent, and so on.
Converting Decimals to Percents
Convert 2.64 to a percent.
Does a percentage greater than 100 even make sense? Sure it does, percentages greater than 100 come up in real life all the time. For example, a business that made 10 million dollars last year and 13 million dollars this year would have made 130% as much money this year as it did last year.
The only situation where a percentage greater than 100 doesn't make sense is when you're talking about dividing up something that you only have a fixed amount of. For example, if you took a survey and found that 56% of the respondents gave one answer and 72% gave another answer (for a total of 128%), you'd know something went wrong with your math somewhere, because there's no way you could have gotten answers from more than 100% of the people you surveyed.
Converting percentages to decimals is just as easy as converting decimals to percentages, simply move the decimal to the left instead of to the right.
Converting Percents to Decimals
Convert 58% to a decimal.
The decimal point here is invisible, it's right after the 8. So moving it to the left two places gives us 0.58.
One way you might remember this is by remembering that a percent sign is bigger than a decimal point, so percents should be bigger numbers than decimals.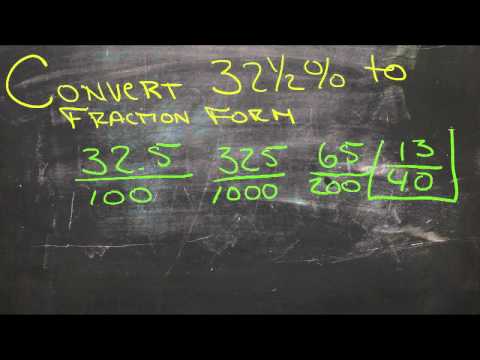 Examples
Example 1
Convert 3.4 to a percent.
If you move the decimal point to the left, you get a 0.034%. That's a smaller number than you started out with, but you're moving from decimals to percents, so you want the number to get bigger, not smaller. Move it to the right instead to get 340%.
Example 2
Review
Express the following decimals as a percent.
0.011
0.001
0.91
1.75
20
Express the following percentages in decimal form
15%
0.08%
222%
3.5%
341.9%
Express the following fractions as a percent (round to two decimal places when necessary)
1

6

5

24

6

7

11

7

13

97
Express the following percentages as a reduced fraction.
11%
65%
16%
12.5%
87.5%
Review (Answers)
To view the Review answers, open this PDF file and look for section 3.13.
Texas Instruments Resources
In the CK-12 Texas Instruments Algebra I FlexBook® resource, there are graphing calculator activities designed to supplement the objectives for some of the lessons in this chapter. See http://www.ck12.org/flexr/chapter/9613.