2.11

:

Graphing Inequalties in Two Variables

Difficulty Level: At Grade Created by: CK-12
Estimated
11
mins
to complete
Progress
Practice
Linear Inequalities in Two Variables
MEMORY METER
This indicates how strong in your memory this concept is
Progress
Estimated
11
mins
to complete
%
Estimated
11
mins
to complete
%
MEMORY METER
This indicates how strong in your memory this concept is
Xpress Taxi Service charges $1.50 per minute traveled minus $0.25 per minute spent in stopped traffic. You only have $10 in your wallet, so that is the maximum amount you can spend on your ride. In which quadrant(s) would the graph represented by this situation fall?
Watch This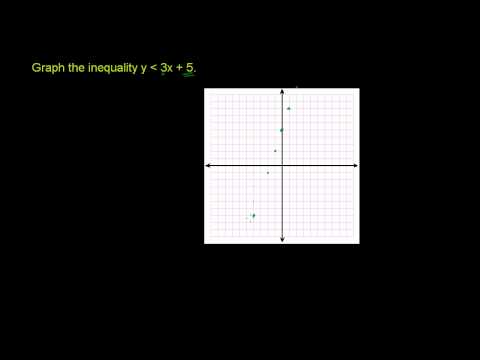 Khan Academy: Graphing linear inequalities in two variables 2
Guidance
Example A
Solution: First, change the inequality into slope-intercept form. Remember, that if you have to divide or multiply by a negative number, you must flip the inequality sign.
Now, we need to determine the shading. You can use one of two methods to do this. The first way is to use the graphs and forms from above. The equation, in slope-intercept form, matches up with the purple dashed line and shading. Therefore, we should shade above the dashed blue line.
Example B
Solution: This inequality is already in slope-intercept form. So, graph the line, which will be solid, and then determine the shading. Looking at the example graphs above, this inequality should look like the red inequality, so shade below the line.
Example C
Determine the linear inequality that is graphed below.
Intro Problem Revisit To solve this taxi cab problem, we must first set up an inequality to represent the situation.
You can't travel a negative number of miles or sit in traffic for a negative number of minutes. Therefore both x and y must have zero or positive values. When both x and y are positive, the graph occurs in the first quadrant only. Graph the function to check this answer.
Guided Practice
3. What is the equation of the linear inequality?
Answers
1. First, change the inequality into slope-intercept form.
Now, we need to determine the type of line and shading. Because the sign is "<," the line will be dashed and we will shade below.
Practice
Graph the following inequalities.
y

>

x

−

5

3

x

−

2

y

≥

4

y

<

−

3

x

+

8

x

+

4

y

≤

16

y

<

−

2

y

<

−

1

2

x

−

3

x

≥

6

8

x

+

4

y

≥

−

20

−

4

x

+

y

≤

7

5

x

−

3

y

≥

−

24

y

>

5

x

y

≤

0
Determine the equation of each linear inequality below.

Notes/Highlights Having trouble? Report an issue.
Color
Highlighted Text
Notes
Please Sign In to create your own Highlights / Notes
Show More
Files can only be attached to the latest version of Modality