3.9

:

Conversion of Decimals, Fractions, and Percent

Difficulty Level: Basic Created by: CK-12
Estimated
10
mins
to complete
Progress
Practice
Conversion of Decimals, Fractions, and Percent
MEMORY METER
This indicates how strong in your memory this concept is
Progress
Estimated
10
mins
to complete
%
Estimated
10
mins
to complete
%
MEMORY METER
This indicates how strong in your memory this concept is
A percent is a ratio whose denominator is 100. Before we can use percents to solve problems, let's review how to convert percents to decimals and fractions and vice versa.
To convert a decimal to a percent, multiply the decimal by 100.
Example A
Convert 0.3786 to a percent.
To convert a percentage to a decimal, divide the percentage by 100.
Example B
Convert 98.6% into a decimal.
Example C
Guided Practice
Express 75% as a reduced fraction.
Solution:
Practice
Sample explanations for some of the practice exercises below are available by viewing the following video. Note that there is not always a match between the number of the practice exercise in the video and the number of the practice exercise listed in the following exercise set. However, the practice exercise is the same in both. CK-12 Basic Algebra: Percent Problems (14:15)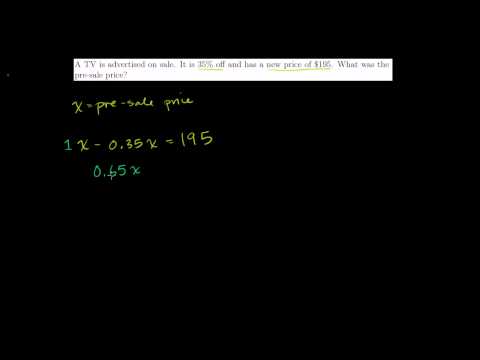 Express the following decimals as percents.
0.011
0.001
0.91
1.75
20
Express the following fractions as a percent (round to two decimal places when necessary).
1

6

5

24

6

7

11

7

13

97
Express the following percentages as reduced fractions.
11%
65%
16%
12.5%
87.5%
Notes/Highlights Having trouble? Report an issue.
Color
Highlighted Text
Notes
Please Sign In to create your own Highlights / Notes
Show More
Files can only be attached to the latest version of Modality