20.2

:

Standard Entropy

Difficulty Level: At Grade Created by: CK-12
Estimated
5
mins
to complete
Progress
Practice
Standard Entropy
MEMORY METER
This indicates how strong in your memory this concept is
Progress
Estimated
5
mins
to complete
%
Estimated
5
mins
to complete
%
MEMORY METER
This indicates how strong in your memory this concept is
How much energy is available?
As scientists explore energy supplies, geothermal sources look very appealing. The natural geysers that exist in some parts of the world could possibly be harnessed to provide power for many purposes. The change in energy content and the release of energy caused by steam condensing to liquid can help fill some of our growing energy needs.
Standard Entropy
Standard Entropy Values at 25°C
Substance

S

∘

(

J/K

⋅

mol

)

H2(g)
131.0
O2(g)
205.0
H2O(l)
69.9
H2O(g)
188.7
C(graphite)
5.69
C(diamond)
2.4
The entropy change for the vaporization of water is positive because the gas state has higher entropy than the liquid state.
In general, the entropy change for a reaction can be determined if the standard entropies of each substance are known. The equation below can be applied.
The entropy change for this reaction is highly negative because three gaseous molecules are being converted into two liquid molecules. According to the drive towards higher entropy, the formation of water from hydrogen and oxygen is an unfavorable reaction. In this case, the reaction is highly exothermic and the drive towards a decrease in energy allows the reaction to occur.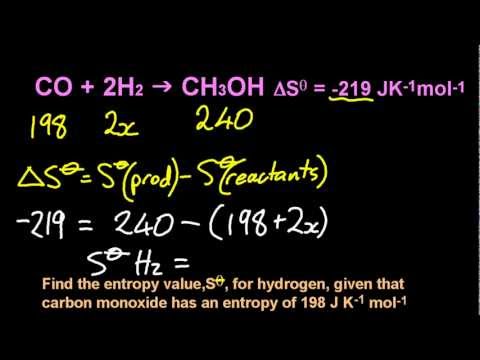 Summary
Calculations of change in entropy using standard entropy are described.
Review
When is the entropy of any material at its lowest?
In the reaction involving the formation of water from hydrogen and oxygen, why is the entropy value negative?
Why would diamond have a lower standard entropy value than graphite?
Notes/Highlights Having trouble? Report an issue.
Color
Highlighted Text
Notes
Please Sign In to create your own Highlights / Notes
Show More
Save or share your relevant files like activites, homework and worksheet.
To add resources, you must be the owner of the Modality. Click
Customize
to make your own copy.