7.10

:

Division of Fractions by Whole Numbers

Difficulty Level: At Grade Created by: CK-12
Estimated
7
mins
to complete
Progress
Practice
Division of Fractions by Whole Numbers
MEMORY METER
This indicates how strong in your memory this concept is
Progress
Estimated
7
mins
to complete
%
Estimated
7
mins
to complete
%
MEMORY METER
This indicates how strong in your memory this concept is
Have you ever made your own game? Take a look at this dilemma.
Julie isn't sure. She needs your help. To figure out the problem, Julie will need to divide fractions. You can help her. Pay attention in this Concept and you will learn all that you need to know about dividing fractions.
Guidance
You have learned a couple of things about dividing fractions. The first is that to divide fractions we are actually use the inverse operation, multiplication. The second is that the second fraction is going to become its reciprocal or opposite. These are a few basic notes, but we haven't applied them to actually dividing yet. Let's begin.
How do we divide a fraction by a whole number?
To divide a fraction by a whole number we have to think about what we are actually being asked to do. We are being asked to take a part of something and split it up into more parts.
This problem is asking us to take one-half and divide into three parts. Here is a picture of what this would look like.
This is one half. If we were going to divide one-half into three parts, how much would be in each part?
Here we divided the one-half into three sections. But we couldn't just do that with one part of the whole so we divided the other half into three sections too.
How can we do this without drawing a lot of pictures?
That is where multiplying by the reciprocal comes in handy.
Notice that the answer is the same as when we divided using the pictures!!
Practice solving these on your own. Remember to simplify the quotient (the answer) if you can.
Example A
Example B
Example C
Now let's help Julie figure out how to make her game.
Our first step is to change the operation to multiplication and to multiply 20 by the reciprocal of three-fourths.
Notice that we also made 20 into a fraction over one. Now we are ready to multiply and simplify.
Vocabulary
Here are the vocabulary words in this Concept.
Inverse Operation

opposite operation. Multiplication is the inverse operation of division. Addition is the inverse operation of subtraction.
Reciprocal

the inverse of a fraction. We flip a fraction's numerator and denominator to write a reciprocal. The product of a fraction and its reciprocal is one.
Guided Practice
Here is one for you to try on your own.
Answer
To begin, we have to rewrite this problem as a multiplication problem.
This is our answer.
Video Review
Here are videos for review.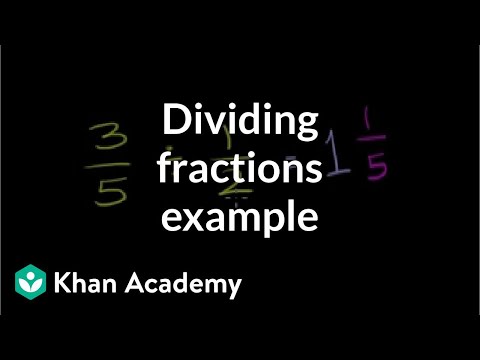 Khan Academy Dividing Fractions Example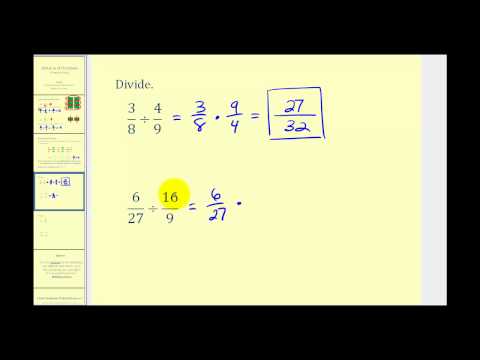 James Sousa Dividing Fractions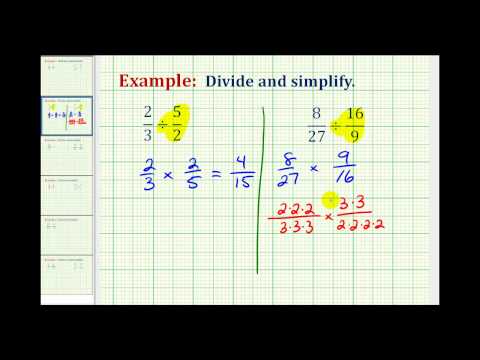 James Sousa Example of Dividing Fractions
Practice
Directions: Divide each fraction and whole number.
Notes/Highlights Having trouble? Report an issue.
Color
Highlighted Text
Notes
Please Sign In to create your own Highlights / Notes
Show More
Files can only be attached to the latest version of Modality