7.2

:

Plants' Adaptations for Life on Land

Difficulty Level: At Grade Created by: CK-12
Estimated
3
mins
to complete
Progress
Practice
Plants' Adaptations for Life on Land
MEMORY METER
This indicates how strong in your memory this concept is
Progress
Estimated
3
mins
to complete
%
Estimated
3
mins
to complete
%
MEMORY METER
This indicates how strong in your memory this concept is
Where did plants come from?
Plants have not always been around on land. For a long time, life was confined to water. The first plants evolved from green algae that looked somewhat like the Chara pictured above.
Plants' Adaptations for Life on Land
The first photosynthetic organisms lived in the water. So, where did plants come from? Evidence shows that plants evolved from freshwater green algae, a protist (Figure below). The similarities between green algae and plants is one piece of evidence. They both have cellulose in their cell walls, and they share many of the same chemicals that give them color. So what separates green algae from green plants?
The ancestor of plants is green algae. This picture shows a close up of algae on the beach.
There are four main ways that plants adapted to life on land and, as a result, became different from algae:
Stomata are pores in leaves that allow gasses to pass through, but they can be closed to conserve water.
Vocabulary
cuticle: Waxy layer that prevents water loss.
phloem: Tube that carries the sugars from the leaves to the other parts of the plant.
stomata: Small pores (holes) in the leaves.
vascular tissue: Specialized tissue that transports water, nutrients, and food in plants.
xylem: Tube that transports water and nutrients from the roots to the rest of the plant.
Summary
Plants evolved from freshwater green algae.
Plants have evolved several adaptations to life on land, including embryo retention, a cuticle, stomata, and vascular tissue.
Practice
Use the resources below to answer the questions that follow.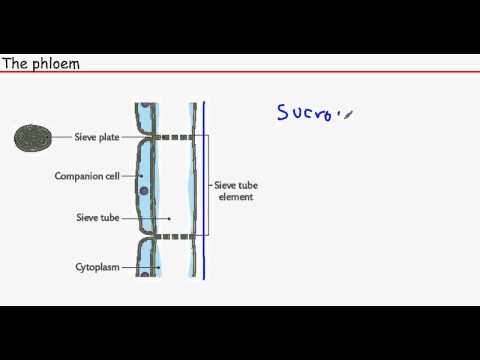 In what groups of plants do you find xylem and phloem? Hint: refer to previous lesson if necessary.
What are the main components of sap?
Compare and contrast xylem and phloem.

What does each transport?
How are their structures similar?
How are their structures different?

What is "transpirational pull"? How is it key to the functioning of xylem?
Review
How are plants different from green algae? How are they the same?
What is the purpose of vascular tissue?
Notes/Highlights Having trouble? Report an issue.
Color
Highlighted Text
Notes
Please Sign In to create your own Highlights / Notes
Show More
Files can only be attached to the latest version of Modality