10.11

:

Volume of Triangular Prisms

Difficulty Level: At Grade Created by: CK-12
Estimated
5
mins
to complete
Progress
Practice
Volume of Triangular Prisms
MEMORY METER
This indicates how strong in your memory this concept is
Progress
Estimated
5
mins
to complete
%
Estimated
5
mins
to complete
%
MEMORY METER
This indicates how strong in your memory this concept is
Have you ever been to an aquarium?
How many cubic feet of water are in the tank?
To figure this out, you will need to know how to calculate the volume of triangular prisms. Pay close attention and you will see this problem again at the end of the Concept.
Guidance
You have just finished working with rectangular prisms, now we are going to look at volume with triangular prisms.
What is the difference between a rectangular prism and a triangular prism?
A rectangular prism has two parallel faces that are rectangles, then the other faces are rectangles as well. With a triangular prism, the two parallel faces are triangles and then the other faces are still rectangles. Here is a picture of a triangular prism.
Let's look at a problem to see how this works.
What is the volume of this triangular prism?
So there are two things that we need to accomplish, we need to find the area of one of the triangular bases and then we can take that measurement and multiply it with the height of the entire prism.
Find the volume of the following triangular prisms.
Example A
Example B
Example C
Here is the original problem once again.
How many cubic feet of water are in the tank?
This problem is tricky because there are two parts to it. First, we have to figure out how much water would be in the tank if it were full. Then we can figure out two - thirds of that volume.
Let's begin. Here is the formula for volume of a prism.
Now we can use this measure in the formula for volume.
This is the volume if the tank was full. However, we need to figure out two- thirds of this amount.
This is our answer.
Vocabulary
Here are the vocabulary words in this Concept.
Prism

a three-dimensional solid with two flat parallel polygon bases and rectangular faces. The bases can be any polygon in shape.
Volume

the measure of the space inside a solid figure. Volume often is measured in terms of capacity connected with liquid measure.
Cubic Units

volume is measured in cubic units because three parts of a solid are being measured, length, width and height.
Guided Practice
Here is one for you to try on your own.
Every year Jeanie gets a bottle of her favorite perfume for her birthday. The perfume comes in a bottle shaped like a triangular prism. She is worried that she might run out of perfume before her next birthday because the bottle is only half full. How much perfume does she have left?
Answer
The base area is 12 square centimeters. Now we can put this into the volume formula and solve.
Now we know that the volume of the perfume bottle is 108 cubic centimeters. This is the amount a full bottle can contain. Remember, Jeanie's bottle is only half full. Therefore we need to divide the volume in half:
There are 54 cubic centimeters of perfume left in Jeanie's perfume bottle.
Video Review
Here is a video for review.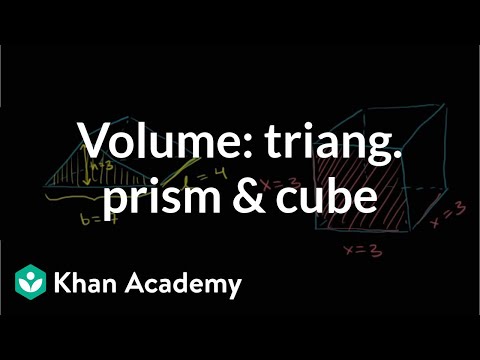 - This is a Khan Academy video on solid geometry volume.
Practice
Notes/Highlights Having trouble? Report an issue.
Color
Highlighted Text
Notes
Show More
Files can only be attached to the latest version of Modality