5.1

:

Sides of an Oblique Triangle

Difficulty Level: At Grade Created by: CK-12
Estimated
12
mins
to complete
Progress
Practice
Sides of an Oblique Triangle
MEMORY METER
This indicates how strong in your memory this concept is
Progress
Estimated
12
mins
to complete
%
Estimated
12
mins
to complete
%
MEMORY METER
This indicates how strong in your memory this concept is
You are playing a game called "Over the Line", where you stand at one corner of a triangle and hit a ball. The field looks like this:
Points are scored by hitting the ball so that it lands beyond the first line in the triangle, but before the second line.
Watch This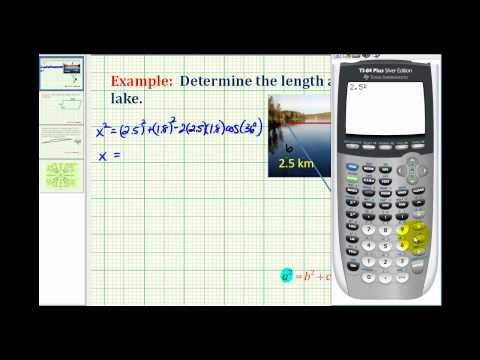 James Sousa Example: Application of the Law of Cosines
Guidance
This Concept takes ideas that have only been applied to right triangles and interprets them so that they can be used for any type of triangle. First, the laws of sines and cosines take the Pythagorean Theorem and ratios and apply them to any triangle.
One case where we can use the Law of Cosines is when we know two sides and the included angle in a triangle (SAS) and want to find the third side.
Example A
Example B
No, this triangle does not conform to the definition of a work triangle. The sink and the refrigerator are too far apart by 0.4 feet.
Example C
Vocabulary
Included Angle: The included angle in a triangle is the angle between two known sides.
Law of Cosines: The law of cosines is a rule involving the sides of an oblique triangle stating that the square of a side of the triangle is equal to the sum of the squares of the other two sides plus two times the lengths of the other two sides times the cosine of the angle opposite the side being computed.
Oblique Triangle: An oblique triangle is a triangle without a right angle as one of its internal angles.
Side Angle Side Triangle: A side angle side triangle is a triangle where two of the sides and the angle between them are known quantities.
Guided Practice
Solutions:
Concept Problem Solution
Practice
State the Law of Cosines.
For each triangle below, state the values of a, b, and C.

Now, for each triangle, solve for the missing side using the Law of Cosines.
Prove that the Law of Cosines is equivalent to the Pythagorean Theorem for all right triangles.
Notes/Highlights Having trouble? Report an issue.
Color
Highlighted Text
Notes
Please Sign In to create your own Highlights / Notes
Show More
Files can only be attached to the latest version of Modality