12.3

:

The Coulomb Force Law

Difficulty Level: At Grade Created by: CK-12
This looks a lot like the Law of Universal Gravitation, which deals with attraction between objects with mass. The big difference is that while any two masses experience mutual attraction, two charges can either attract or repel each other, depending on whether the signs of their charges are alike:
Like gravitational (and all other) forces, Coulomb forces add as vectors. Thus to find the force on a charge from an arrangement of charges, one needs to find the vector sum of the force from each charge in the arrangement.
Example 1
Example 2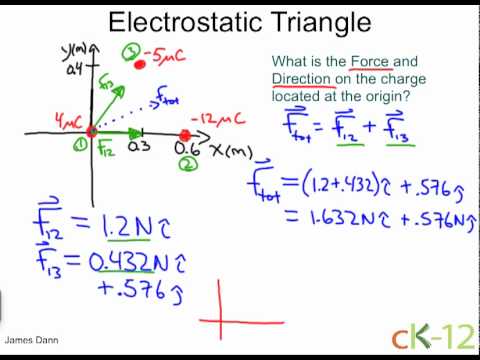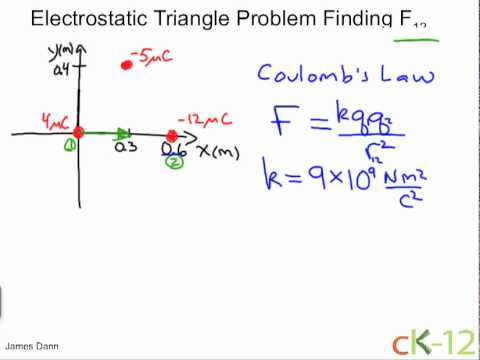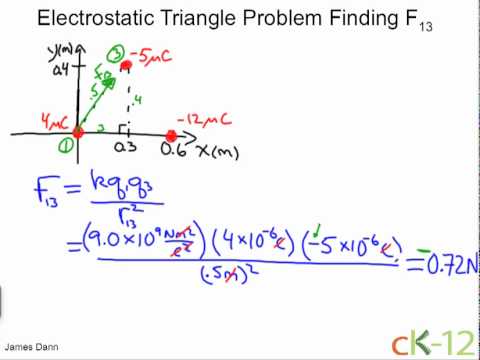 Electric Fields and Electric Forces
Gravity and the Coulomb force have a nice property in common: they can be represented by fields. Fields are a kind of bookkeeping tool used to keep track of forces. Take the electromagnetic force between two charges given above:
Note that this is true for all electric fields, not just those from point charges. In general, the electric field at a point is the force a positive test charge of magnitude 1 would feel at that point. Any other charge will feel a force along the same line (but possibly in the other direction) in proportion to its magnitude. In other words, the electric field can be though of as "force per unit charge".
Example 3
Answer: To calculate the electric field we will use the equation
Before we solve for the electric field by plugging in the values, we convert all of the values to the same units.
Now that we have consistent units we can solve the problem.
To solve for the force at the point we will use the equation
We already know all of the values so all we have to do is convert all of the values to the same units and then plug in the values.
Notes/Highlights Having trouble? Report an issue.
Color
Highlighted Text
Notes
Show More
Files can only be attached to the latest version of section