Not Exactly Permanent
Credit: Brown, J., O.J. Ferrians, Jr., J.A. Heginbottom, and E.S. Melnikov. 1998, revised February 2001. Boulder, CO: National Snow and Ice Data Center/World Data Center for Glaciology
Source: http://en.wikipedia.org/wiki/File:Circum-Arctic_Map_of_Permafrost_and_Ground_Ice_Conditions.png
License: CC BY-NC 3.0
In cold regions, mostly near the poles as shown in the map, the ground below the surface is permanently frozen – or maybe not so permanently. NASA scientists are studying this permafrost, looking for signs that it is starting to melt, and release its stored carbon.
Why It Matters
Four or more times more carbon is stored in frozen soils in the Arctic than has been released into the atmosphere from all human activities since 1850.
Since carbon dioxide cause global temperatures to rise, the release of carbon into the atmosphere will accelerate global warming.
This is called a positive feedback mechanism since the reaction increases the direction the system is going.
Explore More
With the link below, learn more about melting permafrost. Then answer the following questions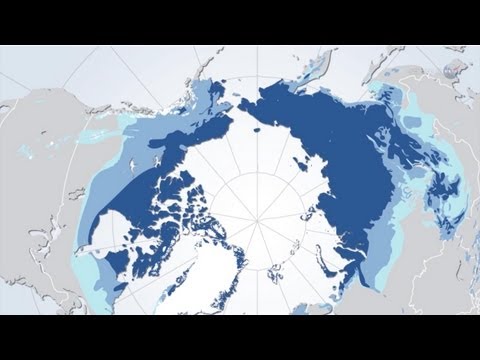 Using the words carbon and permafrost, explain how melting permafrost is an example of a positive feedback mechanism.
Why is the Arctic the 'canary in the coal mine' for global warming?
How do warmer temperatures cause permafrost to release carbon?
What would happen if all the permafrost in the Arctic melted?