Do brain cells have the same internal structures as your other cells?
Yes. Although brain cells look quite different from your other cells, they have the same internal structures as other cells. They need the same structures because they need to perform the same tasks, such as making proteins and obtaining energy.
Organelles
Eukaryotic cells have many specific functions, so it can be said that a cell is like a factory. A factory has many machines and people, and each has a specific role. Just like a factory, the cell is made up of many different parts. Each part has a special role. The different parts of the cell are called organelles, which means "small organs." All organelles are found in eukaryotic cells. Prokaryotic cells are "simpler" than eukaryotic cells. Though prokaryotic cells still have many functions, they are not as specialized as eukaryotic cells, lacking membrane-bound organelles. Thus, most organelles are not found in prokaryotic cells.
Below are the main organelles found in eukaryotic cells (Figure below):
Eukaryotic cells contain special compartments surrounded by membranes, called organelles. For example, notice in this image the mitochondria, lysosomes, and Golgi apparatus.
Also, the cytoskeleton gives the cell its shape, and the flagella helps the cell to move. Prokaryotic cells may also have flagella.
Summary
The nucleus stores the genetic information.
The vacuoles are needed for storage.
The lysosomes recycle waste.
The cytoskeleton provides the shape of the cell.
The ribosomes produce proteins.
The rough ER is covered with ribosomes and makes proteins, while the smooth ER makes lipids.
The Golgi apparatus packages proteins.
Explore More
Use the resources below to answer the following questions.
Explore More I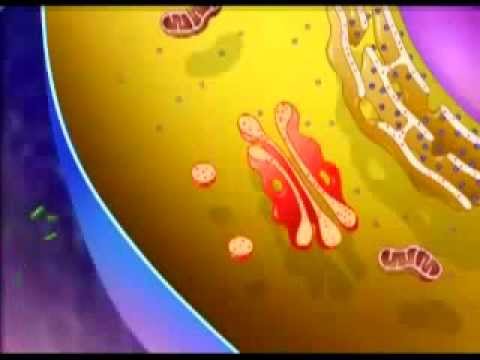 What are the functions of the endoplasmic reticulum? What gives the rough endoplasmic reticulum its "rough" appearance?
What are the most abundant organelles in a cell? Where do they occur? What is there function?
What is the appearance of the Golgi apparatus? What is the function of the Golgi apparatus?
What are lysosomes? What are their functions?
What is the function of mitochondria? Do all cells have the same number of mitochondria? How can this situation be explained?
Explore More II
What is cytosol? How does this differ from cytoplasm?
What are the primary types of protein filaments that make up the cytoskeleton?
What is the function of a peroxisome?
What is a secretory

vesicle

? Where are they made? What is their function?
Review
What is the purpose of the Golgi apparatus?
What is the purpose of the mitochondria?
How is the smooth ER different from the rough ER?
What is a

lysosome

?