The electric field between the capacitor plates stores energy.
Where does this energy come from? Recall, that in our preliminary discussion of electric forces we assert that "like charges repel one another". To build our initial configuration we had to place an excess of positive and negative charges, respectively, on each of the metal plates. Forcing these charges together on the plate had to overcome the mutual repulsion that the charges experience; this takes work. The energy used in moving the charges onto the plates gets stored in the field between the plates. It is in this way that the capacitor can be thought of as an energy storage device. This property will become more important when we study capacitors in the context of electric circuits in the next several Concepts.
Note: Many home-electronic circuits include capacitors; for this reason, it can be dangerous to mess around with old electronic components, as the capacitors may be charged even if the unit is unplugged. For example, old computer monitors (not flat screens) and TVs have capacitors that hold dangerous amounts of charge hours after the power is turned off.
The electric potential energy,
U
C
, stored in the capacitor is given by
Example
We'll just use the equation given above to calculate the energy stored on the capacitor.
By adding a dielectric, we increase the capacitance of the capacitor by a factor of the dielectric constant. The dielectric constant of water is 80, so the new capacitance will be 80 times the original capacitance.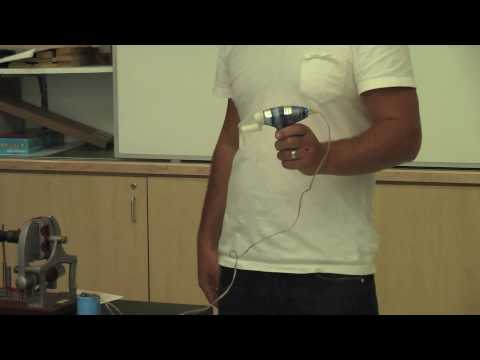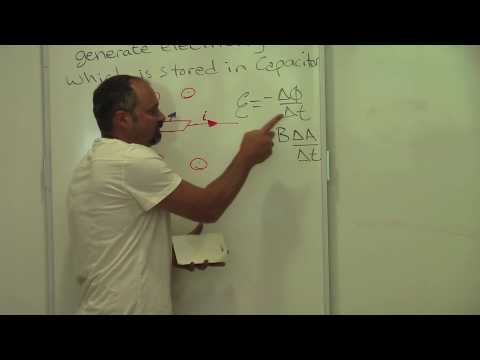 Interactive Simulation
Review
You have a

5

μ

F

capacitor.

How much voltage would you have to apply to charge the capacitor with

200

C

of charge?
Once you have finished, how much potential energy are you storing here?
If all this energy could be harnessed to lift 100 lbs. into the air, how high would you be lifted?

A certain capacitor can store

500

J

of energy (by storing charge) if you apply a voltage of

15

V

. How many volts would you have to apply to store

1000

J

of energy in the same capacitor? (Important: why isn't the answer to this just

30

V

?)
Marciel, a bicycling physicist, wishes to harvest some of the energy he puts into turning the pedals of his bike and store this energy in a capacitor. Then, when he stops at a stop light, the charge from this capacitor can flow out and run his bicycle headlight. He is able to generate

18

V

of electric potential, on average, by pedaling (and using magnetic induction). If Mars wants to provide

0.5

A of current for 60 seconds at a stop light, what should the capacitance of his capacitor be?
Review (Answers)
a.

4

×

10

7

V

b.

4

×

10

9

J

c. About

9000

k

m

21

V

,

V

is squared.

3.3

F