Heat engines transform input heat into work in accordance with the laws of thermodynamics. For instance, as we learned in the previous Concept, increasing the temperature of a gas at constant volume will increase its pressure. This pressure can be transformed into a force that moves a piston.
The mechanics of various heat engines differ but their fundamentals are quite similar and involve the following steps:
Heat is supplied to the engine from some source at a higher temperature

(

T

h

)

.
Some of this heat is transferred into mechanical energy through work done

(

W

)

.
The rest of the input heat is transferred to some source at a lower temperature

(

T

c

)

until the system is in its original state.
A single cycle of such an engine can be illustrated as follows:
If the engine does not lose energy to its surroundings (of course, all real engines do), then this efficiency can be rewritten as
The Stirling engine is a real life heat engine that has a cycle similar to the theoretical Carnot cycle. The Stirling engine is very efficient compared to a gasoline engine and could become an important player in today's world where green energy and efficiency will reign supreme.
Q
in
=
Q
out
+
W
+
Δ
U
adiabatic expansion is a process occurring without the exchange of heat with the environment
isothermal expansion is a process occurring without a change in temperature
isobaric expansion is a process occurring without a change in pressure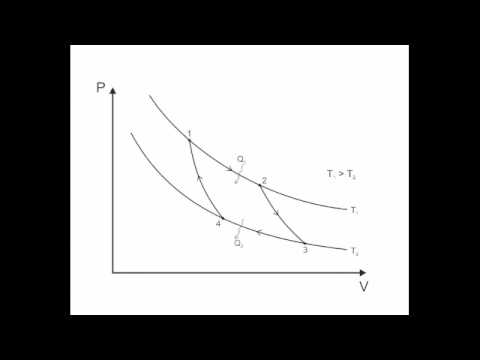 Example
a) What is the ideal efficiency of this engine?
We will plug the known values into the formula to get the ideal efficiency.
To find the power of the engine, we will use the power equation and plug in the known values.
d) How much power is exhausted?
Since we know how much power is being put into the engine and how much energy is actually being used to lift the weight, we can determine how much energy is not actually being used to do work.
Interactive Simulation
Review
Consider the change the gas undergoes as it transitions from point

b

to point

c

. What type of process is this?

adiabatic
isothermal
isobaric
isochoric
entropic

Consider the change the gas undergoes as it transitions from point

c

to point

a

. What type of process is this?

adiabatic
isothermal
isobaric
isochoric
none of the above

Consider the change the gas undergoes as it transitions from point

a

to point

b

. Which of the following bestdescribes the type of process shown?

isothermal
isobaric
isochoric

Calculate the ideal efficiencies of the following sci-fi heat engines:

A nuclear power plant on the moon. The ambient temperature on the moon is

15

K

. Heat input from radioactive decay heats the working steam to a temperature of

975

K

.
A heat exchanger in a secret underground lake. The exchanger operates between the bottom of a lake, where the temperature is

4

C

, and the top, where the temperature is

13

C

.
A refrigerator in your dorm room at Mars University. The interior temperature is

282

K

; the back of the fridge heats up to

320

K

.

A heat engine operates through

4

cycles according to the

P

V

diagram sketched below. Starting at the top left vertex they are labeled clockwise as follows: a, b, c, and d.

From

\begin{align*}a-b\end{align*}

the work is

\begin{align*}75 \;\mathrm{J}\end{align*}

and the change in internal energy is

\begin{align*}100 \;\mathrm{J}\end{align*}

; find the net heat.
From the a-c the change in internal energy is

\begin{align*}-20 \;\mathrm{J}\end{align*}

. Find the net heat from b-c.
From c-d the work is

\begin{align*}-40 \;\mathrm{J}\end{align*}

. Find the net heat from c-d-a.
Find the net work over the complete

\begin{align*}4\end{align*}

cycles.
The change in internal energy from b-c-d is

\begin{align*}-180 \;\mathrm{J}\end{align*}

. Find:

the net heat from c-d
the change in internal energy from d-a
the net heat from d-a
Review (Answers)
d
c
a
a.

\begin{align*}98\end{align*}

% b.

\begin{align*}4.0\end{align*}

% c.

\begin{align*}12\end{align*}

%
a.

\begin{align*}1753 \;\mathrm{J}\end{align*}

b.

\begin{align*}-120 \;\mathrm{J}\end{align*}

c.

\begin{align*}80 \;\mathrm{J}\end{align*}

d.

\begin{align*}35 \;\mathrm{J}\end{align*}

e.

\begin{align*}-100 \;\mathrm{J}, 80 \;\mathrm{J}, 80 \;\mathrm{J}\end{align*}