Students will learn how to solve problems of rolling objects and also of objects that are rolling and sliding.
Key Equations
Example 1
Solution
We'll start by drawing an FBD for the bowling ball.
We'll start by applying Newton's second law to the bowling ball. The force of friction is the only force in the x-direction.
Watch this Explanation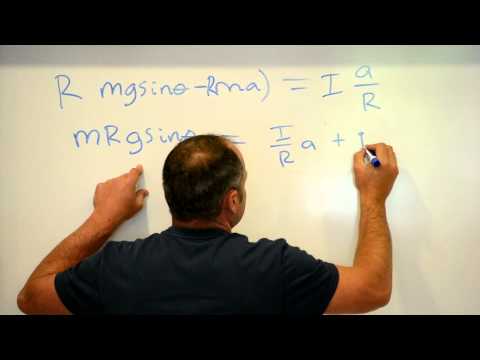 Time for Practice
A solid cylinder of mass, M, and radius R rolls without slipping down an inclined plane that makes an angle

\begin{align*} \theta \end{align*}

. The cylinder starts from rest at a height H. The inclined plane makes an angle

\begin{align*} \theta \end{align*}

with the horizontal. Express all solutions in terms of M,

\begin{align*} \theta \end{align*}

, R, H, and g.

Draw the free body diagram for the cylinder.
Determine the acceleration of the center of mass of the cylinder while it is rolling down the inclined plane.
Determine the minimum coefficient of friction between the cylinder and the inclined plane that is required for the cylinder to roll without slipping.
The coefficient of friction μ is now made less than the value determined in part d so that the cylinder both rotates and slips. How does the translational speed change from above (i.e. larger, smaller, same). Justify your answer.

For a ball rolling without slipping with a radius of

\begin{align*}0.10 \;\mathrm{m}\end{align*}

, a moment of inertia of

\begin{align*}25.0 \;\mathrm{kg}m^2\end{align*}

, and a linear velocity of

\begin{align*}10.0 \;\mathrm{m/s}\end{align*}

calculate the following:
b. = 2gsinθ/3 c. (tan θ) /3 d. The translational, or linear speed increases because some of the energy that would have gone into rotational kinetic energy now goes to linear kinetic energy, hence making the linear speed greater.
a.

\begin{align*}100 \;\mathrm{rad/s}\end{align*}

b.

\begin{align*}1.25 \times 10^5 \;\mathrm{J}\end{align*}

c.

\begin{align*}2500 \;\mathrm{Js}\end{align*}

d.

\begin{align*}12,500 \;\mathrm{Nm}\end{align*}