Like gravity, the electric force can do work and has a potential energy associated with it. But like we use fields to keep track of electromagnetic forces, we use electric potential, or voltage to keep track of electric potential energy. So instead of looking for the potential energy of specific objects, we define it in terms of properties of the space where the objects are.
Rearranging, we obtain:
The potential of electric forces to do work corresponds to electric potential energy:

The energy that the object gains or loses when traveling through a potential difference is supplied (or absorbed) by the electric field --- there is nothing else there. Therefore, it follows that electric fields contain energy.
Example
Now, since we know the voltage difference, we will express it using the equation for voltage at a certain distance from a point charge.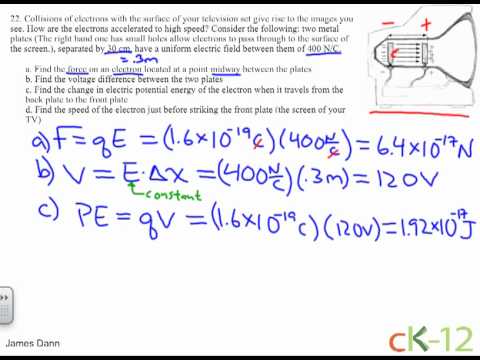 Interactive Simulation
Review
The diagram to the right shows a negatively charged electron. Order the electric potential lines from greatest to least.

\begin{align*}A, B, C\end{align*}

\begin{align*}C, B, A\end{align*}

\begin{align*}B, A, C\end{align*}

\begin{align*}B, C, A\end{align*}

\begin{align*}A = B = C \ldots\end{align*}

they're all at the same electric potential

Below are the electric potential lines for a certain arrangement of charges. Draw the direction of the electric field for all the black dots.
A metal sphere with a net charge of

\begin{align*}+5\ \mu \mathrm{C}\end{align*}

and a mass of

\begin{align*}400 \;\mathrm{g}\end{align*}

is placed at the origin and held fixed there.

Find the electric potential at the coordinate

\begin{align*}(6 \;\mathrm{m}, 0)\end{align*}

.
If another metal sphere of

\begin{align*}-3 \ \mu \mathrm{C}\end{align*}

charge and mass of

\begin{align*}20 \;\mathrm{g}\end{align*}

is placed at the coordinate

\begin{align*}(6 \;\mathrm{m}, 0)\end{align*}

and left free to move, what will its speed be just before it collides with the metal sphere at the origin?

Collisions of electrons with the surface of your television set give rise to the images you see. How are the electrons accelerated to high speed? Consider the following: two metal plates (The right hand one has small holes allow electrons to pass through to the surface of the screen.), separated by

\begin{align*}30 \;\mathrm{cm}\end{align*}

, have a uniform electric field between them of

\begin{align*}400 \;\mathrm{N/C}\end{align*}

.

Find the force on an electron located at a point midway between the plates
Find the voltage difference between the two plates
Find the change in electric potential energy of the electron when it travels from the back plate to the front plate
Find the speed of the electron just before striking the front plate (the screen of your TV)
Review (Answers)
b
The field lines would point towards the circle, perpendicular to their nearest equipotential.
a.

\begin{align*}7500\mathrm{V}\end{align*}

b.

\begin{align*}1.5 \;\mathrm{m/s}\end{align*}

a.

\begin{align*}6.4 \times 10^{-17}\;\mathrm{N}\end{align*}

b.

\begin{align*}1300\mathrm{V}\end{align*}

c.

\begin{align*}2.1 \times 10 ^{-16} \;\mathrm{J}\end{align*}

d.

\begin{align*}2.2 \times 10^7 \;\mathrm{m/s}\end{align*}