When an object moves in the direction of an applied force, we say that the force does work on the object. Note that the force may be slowing the object down, speeding it up, maintaining its velocity --- any number of things. In all cases, the net work done is given by this formula:
Examples
Example 1
A 1kg ball has been attached to a 2m string and is at rest on a frictionless surface. If you exert a constant force of 10N on the string and pull the ball over the course of 5m and then begin spinning the ball in a circle, after 3 revolutions, what is the total amount of work you have done on the ball?
Since the centripetal force you exert on the ball in order to make it spin is perpendicular to the ball's path, you do not work on the ball while spinning it in a circle. Therefore, the only work you do on the ball is when you are pulling it in a straight line.
Example 2
A block of mass 5kg is sliding down a ramp inclined at 45 degrees. If the coefficient of kinetic friction between the ramp and the block is 0.3, how much work does the force of friction do as the block slides 3m down to the bottom of the ramp.
In order to find the work done by friction, we first want to find out the magnitude of the force of friction.
Now that we have the magnitude of the force of friction, we can plug that into the equation for work.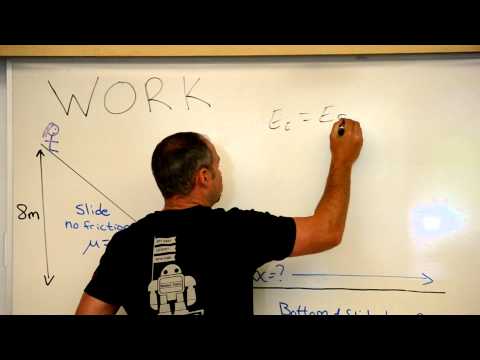 Interactive Simulation
Review
Review (Answers)
a.

\begin{align*}10 \;\mathrm{m/s}\end{align*}

b.

\begin{align*}52\;\mathrm{m}\end{align*}

\begin{align*}96\end{align*}

%

\begin{align*}43.8 \;\mathrm{m/s}\end{align*}