Expansion with

Pascal's Triangle
Expanding a Binomial

The primary purpose for using this triangle is to introduce how to expand binomials.
Then it is only a matter of multiplying out and keeping track of negative signs.
When you study how to count with combinations then you will be able to calculate the value of any coefficient without writing out the whole triangle.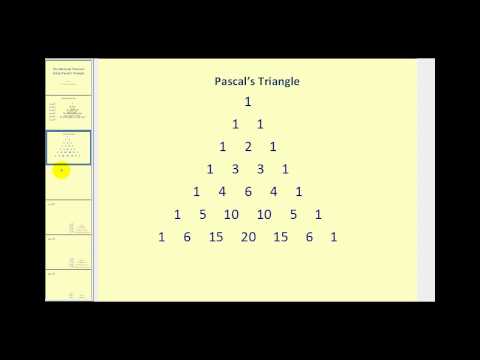 Patterns and Pascal's Triangle
There are many patterns in the triangle. Here are just a few.
Notice the way each number is created by summing the two numbers above on the left and right hand side.
As you go further down the triangle the values in a row approach a bell curve. This is closely related to the normal distribution in statistics.
For any row that has a second term that is prime, all the numbers besides 1 in that row are divisible by that prime number.
In the game Plinko where an object is dropped through a triangular array of pegs, the probability (which corresponds proportionally to the values in the triangle) of landing towards the center is greater than landing towards the edge. This is because every number in the triangle indicates the number of ways a falling object can get to that space through the preceding numbers.
Examples
Example 1
Simplifying is a matter of arithmetic, but most of the work is done thanks to the patterns of Pascal's Triangle.
Example 2
Factor the following polynomial by recognizing the coefficients.
The coefficients are 1, 4, 6, 4, and 1 and those coefficients are on the 5th row. The first row of Pascal's Triangle shows the coefficients for the 0th power so the 5th row shows the coefficients for the 4th power. Thus, the factored form is:
Example 3
Factor the following polynomial by recognizing the coefficients.
Example 4
Unfortunately, Pascal's triangle does not apply to trinomials. Instead of thinking of a two dimensional triangle, you would need to calculate a three dimensional pyramid which is called Pascal's Pyramid. The sum of all the terms below is your answer.
Notice how many patterns exist in the coefficients of this layer of the pyramid.
Example 5
You know that the coefficients will be 1, 5, 10, 10, 5, 1.
Remember to simplify fractions.
Factor the following polynomials by recognizing the coefficients.
Expand the following binomials using Pascal's Triangle.
Review (Answers)
To see the Review answers, open this PDF file and look for section 2.3.