The amplitude of the sine and cosine functions is the distance between the sinusoidal axis and the maximum or minimum value of the function. In relation to sound waves, amplitude is a measure of how loud something is.
What is the most common mistake made when graphing the amplitude of a sine wave?
Watch This
Watch the portion of this video discussing amplitude: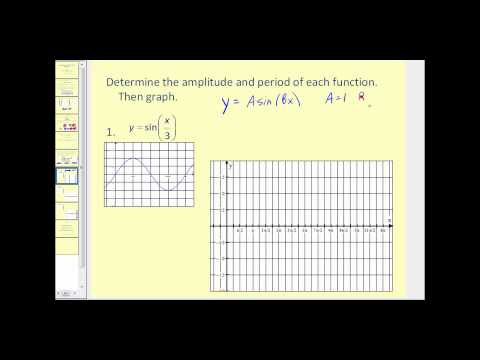 http://www.youtube.com/watch?v=qJ-oUV7xL3w James Sousa: Amplitude and Period of Sine and Cosine
Guidance
The general form a sinusoidal function is:
The cosine function can just as easily be substituted and for many problems it will be easier to use a cosine equation. Since both the sine and cosine waves are identical except for a horizontal shift, it all depends on where you see the wave starting.
Example A
Example B
Write a cosine equation for each of the following functions.
Note that amplitude itself is always positive.
Example C
A Ferris wheel with radius 25 feet sits next to a platform. The ride starts at the platform and travels down to start. Model the height versus time of the ride.
Concept Problem Revisited
Vocabulary
The amplitude of the sine or a cosine function is the shortest vertical distance between the sinusoidal axis and the maximum or minimum value.
The sinusoidal axis is the neutral horizontal line that lies between the crests and the troughs of the graph of the function.
Guided Practice
1. Identify the amplitudes of the following four functions:
Answers:
Starts at height 0
Then down to -8.
Then back to 0.
Then up to 8
Then back to 0.
Plotting these 5 points first is an essential step to sketching an approximate curve.