How does the equation change when a sine or cosine graph is stretched by a factor of 3?
Period and Frequency of
Sinusoidal Functions
The general equation for a sinusoidal function is:
Period
The following three waves have different periods. To rank each wave by period from shortest to longest, look at he distance between each peak.
The red wave has the shortest period.
The green and black waves have equal periods. A common mistake is to see that the green wave has greater amplitude and confuse that with greater periods.
The blue wave has the longest period.
Frequency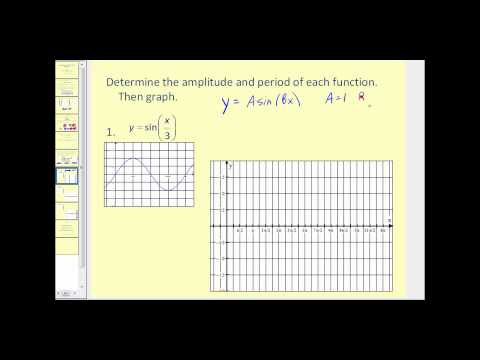 Examples
Example 1
Example 2
Identify the amplitude, vertical shift, period and frequency of the following function. Then graph the function.
Example 3
Usually the best course of action for word problems is to identify information, plot points, sketch and then finally come up with an equation.
From the given information you can deduce the following points. Notice how the sinusoidal axis can be assumed to be the average of the high and low tides.
| | |
| --- | --- |
| Time (hours) | Water level (feet) |
| 0 | 18 |
| 6 | 6 |
| 12 | 18 |
| 3 | |
| 9 | 12 |
By plotting those points and filling in the sinusoidal axis you can observe a cosine graph.
Example 4
Example 5
Given the following graph, identify the amplitude, period, and frequency and create an algebraic model.
Find the frequency and period of each function below.
Graph each of the following functions.
Create an algebraic model for each of the following graphs.

11.
12.
13.
14. At time 0 it is high tide and the water at a certain location is 10 feet high. At low tide 6 hours later, the water is 2 feet high. Given that tides can be modeled by sinusoidal functions, find a graph that models this scenario.
15. Find the equation that models the scenario in the previous problem.
Review (Answers)
To see the Review answers, open this PDF file and look for section 5.5.